I've always been fascinated by the idea of making my own terrain since I read an article about making lily pads from bottle caps in White Dwarf years ago. However, most of my projects then consisted of corrugated cardboard (without tape to cover it…) layered on top of each other to make hills. Very poor hills, I might add.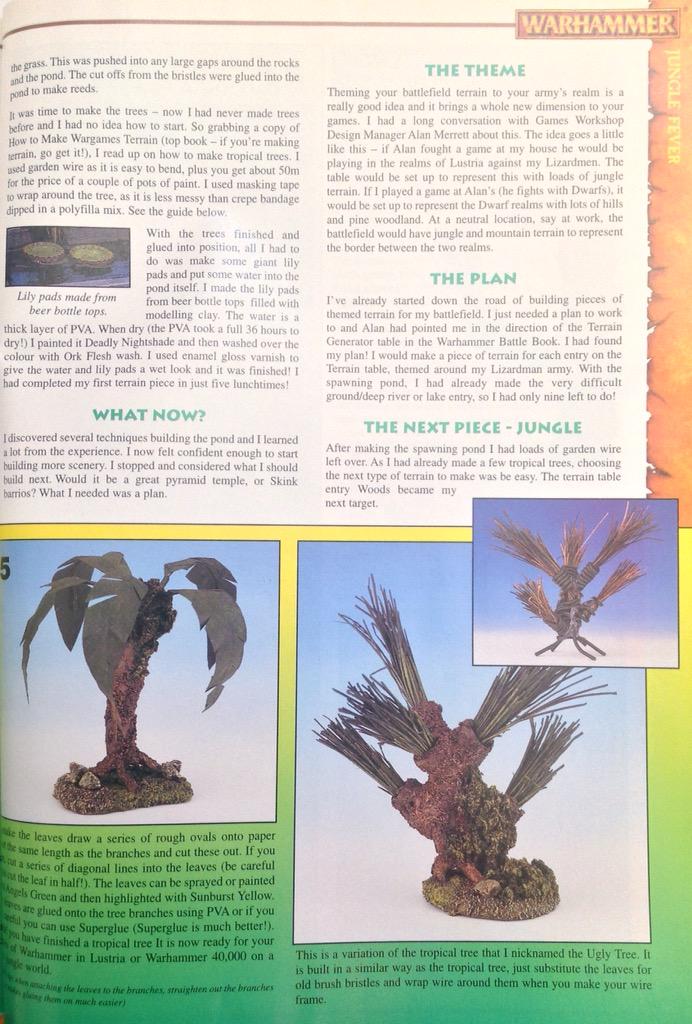 Said article!
However, yesterday I made a trip to the hardware store to get materials for my own battle boards. GW's prices for battle boards are a little too high to my liking, so being a stingy Scot, I decided I needed to make my own! Admittedly, I also thought it'd be fun, so price isn't everything here!
However, as part of building my own battle board I want to build my own terrain. I've visited dozens of blogs, guides, webstores, and forum posts for inspiration, materials, how-to's and the like for building terrain. I favourited the sites, and thought I'd share it with those who are in a similar situation!
First, some inspiration for everyone! Some fantastic pieces of terrain!
Now that you have some ideas, I compiled a list of a few guides!
MiniWarGaming's PDF on making terrain
For trees I found 1, 2, 3 different ways of making them!
As far as materials are concerned, I think most of this  this is more to just give you an idea, because you can find this is most hobby stores. What isn't there you can get on eBay or Amazon.
You an also order How to Make Wargames Terrain or Terrain Modelling Masterclass of Amazon for more professional help with building your own terrain.
Further reading would be a few blogs I've found that I really enjoy!
There's also a few people on Twitter worth following specifically for terrain!
Here's some YouTube channels to follow
I'll keep updating this post whenever I see something that should be on the lists here!